Haus der Geschichten / House of Stories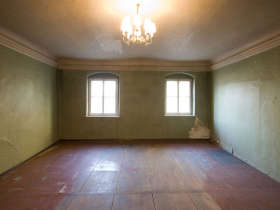 Copyright: Alex Davies
An old apartment house in downtown Linz became a setting for storytelling: what emerged was wonderment, invention and drama.
From February to December 2009, a vacant apartment building in downtown Linz became a setting for stories: of wonderment, invention and drama. The house at Pfarrplatz 18 had been vacant for years. The furnishings were removed, the place was cleaned up and modestly decorated. As a means of staging the stories that actually had taken place there—what everyday life lived out in the kitchens and bathrooms at the rear of the building might have been like, or what secrets the cold storage room and the coal cellar might reveal. But also as a way to playfully take leave of this reality and give free rein to the imagination.
In the HOUSE OF STORIES, projects by a total of about 40 artists—most from the local indie scene—were produced, each one in a particular space that was suited and conducive to it. The productions were accounts of life: of coming home and going away; of relationships, pleasure and pain; of people and animals; of love. The artists confronted the specific facts and circumstance of this building and came up with narratives that could only have been related here—curious, gloomy, anecdotal and surprising tales. To accomplish this, a household community was formed; tenants from diverse backgrounds moved in to breathe life into the rooms and to let them speak their piece. There was hustle and bustle on these premises again—the comings and goings of artists, cooks and collectors, travelers and writers.
Beginning in October, the Capital of Culture itself moved in and set up a retrospective exhibit documenting what had happened and what had been neglected. These artifacts, costumes, films, photos, props, objects and sketches told a story commemorating about 70 Capital of Culture year projects.
WHAT // Wonderment, invention, drama, remembrance
WHEN // February-December 2009
WHERE // Pfarrplatz 18, 4020 Linz
Archiv
more
Gallery
back