Das neugierige Museum / The Inquisitive Museum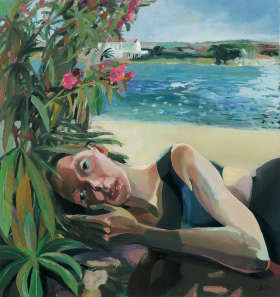 MITTAGSSCHLAF von Johanna Freise
The Lentos inquisitively reached out to the world, inviting artists and art lovers to join a collective brainstorming session to generate input about the future direction of the art museum as an institution.
It all began in March 2007 with a large-scale workshop. A group of Austrian and international artists and professionals from across the cultural spectrum convened at the Lentos to give some thought to the museum itself and its interaction with visitors and interest groups. Three art projects were the outcome of this initial phase.
An action entitled "Change of Scenery" carried out by a group of female art aficionados named freundinnen der kunst dispatched four paintings from the Lentos' collection as goodwill ambassadors. Their temporary new homes were four highly dissimilar locations around town ranging from City Hall to the Zoo. A month later, the four works returned to the Lentos, where, amidst a festive setting in the museum's auditorium and in the presence of some of their hosts, what these paintings had experienced during their outings was presented to the media and the general public.
For "Parallel Universe," Uli Aigner staged five intimate dinner parties designed to provide Lentos Director Stella Rollig and a single guest sufficient time and an appropriate setting for an in-depth exchange of views. What came out during these tête-à-têtes is being made public over the course of 2010 by an artistic video documentation being screened in the Lentos' Lobby.
"The Secret Monologs" are unconventional audio guided tours of Lentos developed by Antje Schiffers and Thomas Sprenger in cooperation with guards stationed in the exhibition spaces. Monologs installed on the audio guide devices let visitors share in the apercus of insiders whose job it is to observe art. What emerges is the opportunity to reflect on the act of partaking of art.
WHAT // Interventions in the Museum and in public spaces
WHEN // April 4-30, 2009
WHERE // Lentos Art Museum Linz

IDEA / CONCEPT // Lentos Art Museum Linz
PRODUCERS // Uli Aigner, freundinnen der kunst, Antje Schiffers and Thomas Sprenger
Gallery
Press Information to Das neugierige Museum / The Inquisitive Museum
back