Pixel Hotel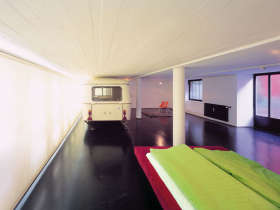 Copyright: Dietmar Tollerian
Hong Kong, Chicago, Tierra del Fuego—fed up with cookie-cutter hotel rooms and their soul-deadening sameness? Once again: Linz is different!
PIXEL HOTEL invites its guests to stay in a very unconventional sort of lodgings. The rooms and suites are dispersed throughout the entire city. Here, one's situated in an old storefront; there, it's in a former workshop set on a backstreet courtyard, or even aboard a ship. All over town, there are interesting but unused premises that have been converted into hotel rooms. They're in nice residential areas, downtown, industrial zones and working-class neighborhoods—after all, every part of town has its stories to tell and the PIXEL HOTEL lets guests experience them right up close. A Pixel is the smallest unit of a hotel. Guests are called upon to take city map and transit pass in hand and discover what the city has to offer. For breakfast, they have to leave the premises and make their way to one of the cafés nearby. The restaurants of Linz serve as the hotel's dining room, and neighborhood pubs with their local color more than make up for the absence of a lobby bar.
Six Pixels were set up between 2007 and the end of the Capital of Culture year. For instance, Pixel on the Courtyard's centerpiece is a trailer; at Pixel in Textilpassage, the bed is on a floating island; and the furnishings in Pixel in the Volksküche are all clad in Eternit tiles. The terrific response on the part of guests has confirmed the brilliance of the developers' concept; accordingly, PIXEL HOTEL will remain in operation beyond the Capital of Culture year.
This project has been covered extensively by media outlets worldwide and has won several national and international prizes for its stylish architecture and innovative accommodations (for instance, the John Hardy Group Award and the contractworld.award.2010 in the Hotel category).
WHAT // Unconventional hotel
WHEN // Since Autumn 2007
WHERE // Marienstraße, Wimhölzelstraße, Graben, Hirschgasse, Hafen, Herbert-Bayer-Platz
www.pixelhotel.at

IDEA / CONCEPT / IMPLEMENTATION // Verein Pixelhotel (Sabine Funk, Michael Grugl, Jürgen Haller, Christian H. Leeb, Richard Steger, Christoph Weidinger)




Gallery
Press Information to Pixelhotel
Download Press Photos Pixelhotel
Download Press Photos Press Conference Pixelhotel, 10 November 2008
back