In Situ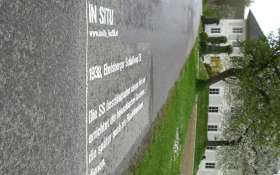 Copyright: Dagmar Höss
Signs inscribed in squares and buildings make Linz's Nazi past visible.
Markings stenciled onto sidewalks and buildings made details of Linz's Nazi past temporarily visible
Temporary texts in public spaces marked sites of Nazi terror in Linz. The National Socialist system's control centers such as Gestapo headquarters on Langgasse were among these historical locations; others were sites of the persecution of Jews, and of the common, everyday dimension of Nazi terror like denunciation of neighbors and coworkers. Linking an actual location to the events that happened here IN SITU (Latin: in its original place) made it possible to experience the history of Nazi persecution and annihilation on the basis of concrete, real-life examples.
IN SITU was designed to mediate people's encounters with history. It translated the results of scholarly research on the history of National Socialism in Linz and Upper Austria into narrative and artistic formats to make them accessible to wider audiences—that is, laypersons specifically interested in increasing their knowledge of recent history as well as passers-by confronted rather by chance with the Nazi past of a particular place.
An essential element of the IN SITU project was its educational mediation work. This included the specially developed IN SITU city map, a project publication and themed city tours. The demand for all these offerings was very strong during the Capital of Culture year. Thanks to support from the City of Linz, it will be possible to continue making these educational offerings available in the future. An IN SITU BOX specially developed for schools contains various instructional materials based on experience gained in conjunction with this project. This BOX is lent out free of charge to teachers by the
Library of the Province of Upper Austria
and the
Tourism Bureau
.
WHAT // Markings stenciled onto sidewalks, etc. in public spaces
WHEN // From late March 2009 until the marking fade away
WHERE // 65 sites in the City of Linz
IDEA/ CONCEPT/ IMPLEMENTATION //: Dagmar Höss, Monika Sommer, Heidemarie Uhl
www.insitu-linz09.at


Free admission
Gallery
Download Press Photos Press Conference In Situ, 11 March 2009
back