Kinderpunkt09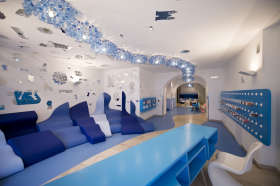 Copyright: Linz09/Dietmar Tollerian
A Place Especially for Kids and Families in the Altes Rathaus.
KINDERPUNKT09 was the go-to place for info and expert advice about Linz's cultural offerings for youngsters during the Capital of Culture year. Plus, it was an ideal spot to rest, relax, play, change diapers, breastfeed, chat and much more!
What did Linz09 have in store for kids? Where could families experience the Capital of Culture together? What did Linz museums, theaters and concert halls have to offer in the way of excitement for all the senses? Kinderpunkt09 had the answers.
In line with the motto "Linz changes," kids up to age 11 were cordially invited to get acquainted with many different facets of the City of Linz in a playful and highly unconventional way. An over-dimensional "seating landscape" encouraged youngsters to discover all sorts on new and interesting stuff about this city. Mirror silhouettes on the ceiling displayed well-known Linz personalities, architecture and works of art—the challenge was to match them to the corresponding photos. Special "showcases" presented prominent cultural institutions of particular interest to children and families. The area set aside for the youngest guests was equipped with playthings offering just the right sensory stimuli for toddlers. A canteen offered a friendly, no-purchase-required atmosphere in which to enjoy snacks guests brought with them and to take advantage of infrastructure such as a bottle warmer and a coffee machine. There was a user-friendly area for moms to breastfeed and dads to change diapers; kid-sized toilet seats were installed. More than 18,800 visitors of all ages took advantage of the services offered in this extraordinary facility.
WHAT // Kinderpunkt09
WHEN // February 1-December 20, 2009
WHERE // Hauptplatz 5, 4020 Linz

Partners
www.uhof.at
www.ooe.familienbund.at
Gallery
back