DAS UNBESCHRIEBENE BLATT / THE BLANK PAGE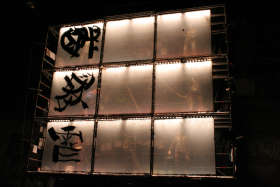 Copyright: Cie Luc Amoros
Awesome Spectacle Featuring a Light Show and Live Music.
Most visual object theatre is presented in dark spaces, and is created out of the dexterous manipulation of objects in intimate surroundings. Cie. Luc Amoros manages to retain this charm while creating open, public works on a grand scale for large audiences. The troupe creates mind-blowing spectacles using light and live music.
In Linz, they didn't use a conventional stage to do so; instead, they erected a gigantic scaffold with nine square surfaces made of linen. This was the blank page, a space in the middle of the city which can be filled in with shadows, paintings and visuals of all kinds. This impressive setup morphed between transient work of art and the diametrical opposite of billboards, challenged the eye of the beholder, and constantly formed new images. The wide-ranging narratives were expressed with the help of words, paintings, shadows and songs—all of which were destroyed immediately upon conclusion of the narrative arc to avoid becoming objects of speculation on the art market. The audience joined in—living, dreaming, humming.
THE BLANK PAGE was Linz09's contribution to Pflasterspektakel and the opening event of this annual production in which street theatre takes over the city for one long and glorious weekend.
WHAT // Visual theatre
WHEN // July 22-25, 2009
WHERE // Alter Markt

IDEA / CONCEPT // Compagnie Luc Amoros
Produced jointly with LinzKultur / Pflasterspektakel, IN SITU, European Street Art Network and La Strada Graz

Concept, Text, Stage & Images // Luc Amoros
Composition // Richard Harmelle
Technical Concept & Construction // Vincent Frossard
Graphic Consulting // Joseph Kieffer
Administration // Mathieu Desanlis
Production, Marketing & Communication // Bruno de Beaufort
Technical Director // Vincent Frossard
Lighting & Scaffold // Martin Descourvières, Manu Coutin
Sound // Manu Haessig
Painting, Gravure & Vocals // Agnès Bourgeois, Katharina Ernst, Lou Amoros-Augustin, Pierre Biebuyck, Suzanne Berelowitch, Sylvie Eder
Music // Jérôme Fohrer

A production of Cie. Luc Amoros. An event of IN SITU, the European street art platform. Co-produced by Linz09; Pflasterspektakel; l'Atelier 231; Sotteville-les-Rouen; le fourneau en Bretagne, Brest; Le Moulin fondu, Noisy-le-Sec; Pisteurs d'Etoiles, Obernai; La Halle Verrière, Meisenthal. Supported by the French Association of Authors and Composers (SACD).
Gallery
Download Press Photos The Blank Page
back