Demokratie ist Kultur! / Democracy is Culture!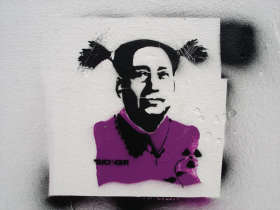 Copyright: www.stencilboard.at
Linz09 declared the 2009 election campaign a cultural event and placed it under European observation.
That a city's Capital of Culture year is also an election year there has rarely happened since Europe began naming Capitals of Culture in 1985. For Linz09, local elections (province legislature, city council, mayor) presented an excellent occasion to focus on this interesting constellation. After all, our democracy is both the result and the basis of our culture and our coexistence with one another. But in September 2009, things would be a bit different: local elections became the subject of attention of a European public that went far beyond Upper Austria's neighboring regions. Did this have an impact on the style and substance of the pre-election political confrontations? Did the Capital of Culture make its presence felt in the tone of the campaign and in politicians' choices of words and topics? Did Linz09 itself become a campaign issue?
For the DEMOCRACY IS CULTURE! project, people with professional experience assessing a region's political conditions and an electorate's mood answered these questions. At the invitation of Linz09, journalists Michael Frank (Süddeutsche Zeitung, Vienna), Tina Klopp (Die Zeit online, Berlin) and Barbara Tóth (Falter, Vienna) as well as University of Zürich sociologist/media studies scholar Kurt Imhof got the lay of the land in Linz and, beginning in mid-September, reported on their campaign experiences and observations in interviews and op-ed pieces that appeared in leading local media outlets.
On Wednesday, September 23, 7:30 PM in KEPLER SALON, Michael Frank and Barbara Tóth recounted their impressions—obtained from afar and up close—of the political campaigns being staged in Linz and vicinity. The quality of the analyses was excellent, the discussion that followed highly controversial and emotionally charged.
On the big day, Linz09 and Radio FRO threw a nonpartisan election bash in the Media Deck of the OK Center for Contemporary Art, where partygoers enjoyed live reportage online and on TV, interviews with prominent guest, and top-notch entertainment.
WHAT // Public election monitoring
WHEN // September 2009
WHERE // ORF – Austrian Broadcasting Company's Upper Austria Regional Studio, OÖ Krone and OÖ Nachrichten (local newspapers), Kepler Salon, Media Deck of the OK Center for Contemporary Art

Free admission
Press Information to Democracy is Culture!
back