Cross-Cultural Dialogue Linz09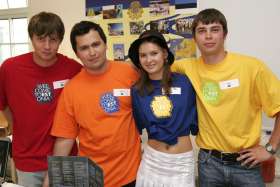 Copyright: FH OÖ
Overcome boundaries and break down prejudices!
The Upper Austria University of Applied Science's Linz Campus worked together with the Steyr Campus' Intercultural Center to stage a three-day encounter seminar for faculty members and undergrads from the Czech Republic, Estonia, Hungary, Turkey and Austria. The aim of this conclave was to exchange insights about ones own culture and attitudes towards foreign cultures, whereby dissemination of historical, social, economic, political and religious information is seen as a way to deal with bias and stereotypes.
The results of this closed seminar were made public at a plenary session. Students were familiarized with the project as a whole and thus supplied with important information that they, in turn, could disseminate further.
WHAT // Intercultural dialog
WHEN // November 2-4, 2009
WHERE // Linz Campus of the Upper Austria University of Applied Science
http://www.fh-ooe.at/cross-cultural-dialogue-linz-09-november-2nd-to-4th/
Press Information to Cross-Cultural Dialogue Linz09
back