Anne JUREN (FR/AT)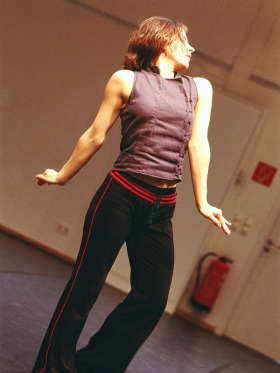 Anne Juren was born in 1978 in Grenoble, France, and has lived and worked in Vienna since 2001. Following graduation from the Conservatoire National Supérieur de Danse in Lyon, she was awarded a state grant that enabled her to study in New York under Trisha Brown. In 2001, in addition to her activities as a dancer for several choreographers (Laurent Pichaud, Saskia Hölbling, Jennifer Lacey), she created her own solo piece entitled "OSO." She followed this up with the solo "A?" and the duet "J'aime" (2004) in collaboration with Alice Chauchat, a work that was produced at such venues as Buda Kortrijk (Belgium), Tanzquartier Wien, Festival Impulstanz Wien, Sommerszene Salzburg and Maison du Theatre et de la Danse in Paris.

In 2005, her solo "Code Series" premiered, and she collaborated with Krõõt Juurak on the creation of "Look look," which was co-produced by Austrian styling agency Unit F and Tanzquartier Wien and performed in many European cities. For apap V (Advancing Performing Arts Project), she created "Sport und Tanzformen," a three-part project with professional athletes that was produced in each of the project's six European partner
cities. 2006-07, Anne Juren was artist-in-residence at Tanzquartier Wien. In May 2008, her new group piece entitled "Composition" had its world premiere at Tanzquartier Wien. In Fall 2008, she is performing her latest piece, "Magical," and is also a curator at Tanzquartier Wien.