Wolf EISELSBERG (AT)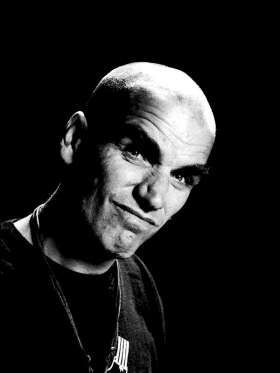 was born in 1961 in Wels, Upper Austria. His family got him involved in music at an early age (singing in a choir, playing piano and, unfortunately, the recorder). At the age of six, he learned the oboe, and later the clarinet, saxophone and piano. He then studied the conga in Ghana, and at some point began to play the drums. Following countless projects, Wolf Eiselsberg founded the jazz band Ohmnibus in Vienna. The group released a double LP and three CDs, gave concerts throughout Austria and Europe, and, among other activities, co-founded the jazz festival in Peking, where Ohmnibus has been a proud representative of the jazz segment of Austria's musical spectrum. He founded the vocal quartet 4-Kant (concerts all over Austria and in Germany, Italy and Croatia) and the very well-received hardcore jazz combo "The Funny Genius." On piano, Eisberg plays with Paul Lovens and Werner Lüdi; on percussion with Wolfgang Mitterer. Eiselsberg played with Joey Baron and Hank Roberts in conjunction with a series of workshops, and has himself conducted countless drum workshops and workshops for open ensembles. He also gives private instruction on drums, piano, saxophone, vocals,
guitar and percussion. He recently founded the trio Nirwakia. Since 2006, he's been giving concerts and recording CDs with Gigi's Gogos, a 13-member band whose repertoire ranges from experimental rock to jazz.