Roland SEIDEL (DE/AT)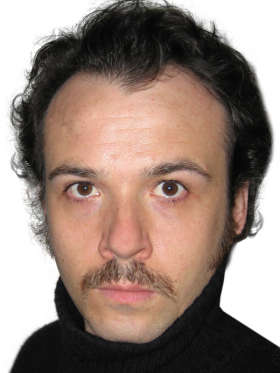 Roland Seidel was born in 1974 in Augsburg, Germany, and lives and works in Vienna. He studied painting and graphic arts at the Academy of Fine Arts Vienna with a major in concept art, and graduated summa cum laude in 2004. As a graphic artist and filmmaker, he has shown his work at numerous exhibitions and film and video festivals in Austria and abroad including Vienna, Germany, Switzerland, France, England, Japan and Spain. A selection: Liste 07, Basel; Galerie Amer Abbas, Vienna; diagonale, Graz; Kunstfilmbiennale in Filmforum Museum Ludwig in Cologne; Media Art Week at the Goethe Institute in Kyoto.

Since 1997, he has been a member of the duo BitteBitteJaJa in which he collaborates with Ulu Braun on joint projects. His artistic work focuses on encounters with the phenomenon of everyday life. Their spontaneous, performative and integrative application of all media
engenders a poetic reinterpretation of the social drama: "Where are we coming from? Where are we headed? What's going on?" As a stage set designer, Roland Seidel has worked with contemporary choreographers including Anne Juren. His work has been honored with many awards.