A Thousand Voices in St. Mary's Cathedral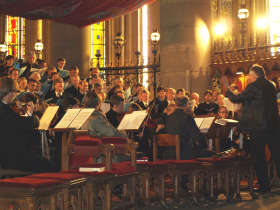 Copyright: Dommusik
22.10.2009


The Mariendom in Linz is Austria's largest church in terms of seating capacity. On the National Holiday this coming Monday, it will serve as the venue for a production of equally superlative dimensions: What is probably the largest church concert ever held in Linz.
The "Te Deum," a work whose textual origins can be traced back to the 3rd-century ecclesiastical patriarchs Ambrosius and Augustinus, has a rich and extensive musical tradition. The list of great composers who have brought their creative genius to this Christian hymn includes Berlioz, Händel, Haydn, Mozart, Purcell and Verdi. Anton Bruckner wrote his "Te Deum" in 1881; an orchestral version of the work debuted in Vienna in 1886. Bruckner himself called the "Te Deum" the "pride and joy of my life." And it does indeed represent one of the pinnacles of his oeuvre. On October 26, a monumental "Te Deum" will be made to resound in Linz's St. Mary's Cathedral by an extraordinary lineup of more than 1,000 singers and musicians. Choirs, soloists, the Cathedral Orchestra and two organists will present Bruckner's work as a TE DEUM OF A THOUSAND VOICES.
With its unique musical-acoustic qualities, this TE DEUM OF A THOUSAND VOICES is a key element of ACOUSTIC CITY, Linz09's large-scale initiative to foster acoustic sensibility. Set up round about St. Mary's Cathedral on the day of the event will be a series of installations at which concertgoers can experience a broad spectrum of sounds and auditory phenomena.
TE DEUM OF A THOUSAND VOICES
October 26, 2009, 8 PM
Mariendom, Herrenstr. 26, 4020 Linz
Free admission
Sold Out (though tickets reserved by no-shows might be available just prior to the performance)
www.linz09.at/te-deum-der-tausend