"Picnic on the Battlefield" in Opposition to War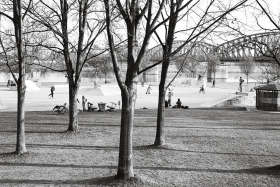 Copyright: Nick Mangafas
20.02.2009


The Landestheater hosted the world premiere of the opera "Picnic on the Battlefield" on Friday, February 20, 2009. Under the aegis of Linz09, a work was created that portrays the absurdity not only of war but of everyday life as well.
During a lull in the fighting at the front, soldier Zapo gets a surprise visit from his parents. Their intention: a countryside picnic with their son.
"Picnic on the Battlefield" is an opera in one act based on the play of the same name by Spanish playwright Fernando Arrabal, a pioneer of the Theater of the Absurd. While reading this work, Greek Cypriot composer Constantinos Stylianou was especially taken by the musicality of Arrabal's narrative tempo and got the idea of turning the play into an opera.
The premiere of "Picnic on the Battlefield" was sold out. Tickets to the five remaining performances (until March 25) are still available at
www.landestheater-linz.at
. Act now!