Drawing for Tickets to
Burhan Öçal

and Love Story Superman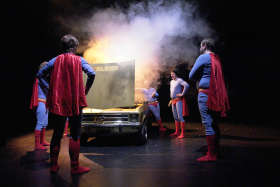 Massimo Furlan - LOVE STORY SUPERMAN
Copyright: Pierre Nydegger
17.03.2009


Linz09 is staging a cultural festival spotlighting Europe's non-EU-member states. The Extra Europa project is designed to let us see Norway, Switzerland and Turkey in a new light. Now's your chance to win tickets!
One of the absolute greats of World music is coming to Linz.
Burhan Öçal
, Turkish star percussionist, composer and singer, and his Istanbul Oriental Ensemble will be appearing in Posthof in conjunction with the Extra Europa cultural festival. Audiences can look forward to a world-class musical experience!
And following this superstar, Extra Europa presents Superman. Swiss artist
Massimo Furlan
will give a performance entitled "Love Story Superman," a series of sustained images that tell of the desire to be different, of confrontations and failures, of the dream of flight and of crashing to the ground. This work has garnered rave reviews worldwide from theater fans and those in the process of becoming such.
Reserve your tickets now!
Linz09 is giving away five pairs of tickets to both events. Just send an e-mail containing your name, address and telephone number and either "Istanbul Oriental Ensemble" or "Love Story Superman" in the subject line to
gewinnspiel@linz09.at
. Entry deadline is Friday, March 20, 2009 at 12 Noon. Winners will be notified by phone on Friday afternoon. Good luck!