Extraordinary Theater !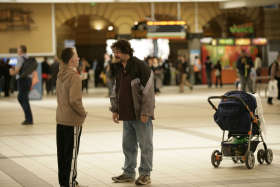 Back to Back - Small metal objects
Copyright: Jeff Busby
20.04.2009


An evening at the theater is something most people picture as a formal occasion spent in dignified surroundings. But Linz09's sicht:wechsel project is revising this view by enabling theatergoers to experience drama in extraordinary ways and uncommon settings—for instance, in a shopping center.
The members of the Back to Back Theater ensemble let us experience how one can get lost in the crowd at a shopping center and, in doing so, make amazing discoveries. Their stage is Shoppingcity
Wels
. Audience members outfitted with headphones are seated on a grandstand set up especially for this performance right in the middle of the hustle and bustle.
The artists themselves are aware of the fact that, as mentally handicapped persons, they experience the world in a fascinatingly different way. Indeed, these extraordinary points of view are precisely what the sicht:wechsel cultural festival seeks to get across.
WHAT // Small metal objects
WHEN // Friday, April 24, 1:30 and 5 :30 PM, Saturday, April 25, 3 PM
WHERE // Shoppingcity
Wels
www.linz09.at/sichtwechsel
Drawing
Now you can win one of 15 pairs of tickets for the performance on Friday, April 24 at 1:30 PM in Shoppingcity
Wels
. Simply send an e-mail with "Small metal objects" in the subject line and containing your name, address and phone number to
gewinnspiel@linz09.at
. Entry deadline is Thursday, April 23, 2009 at 9 AM. The lucky winners will be notified by telephone by noon Thursday.