IN SITU – History Goes to Town: National Socialism in Linz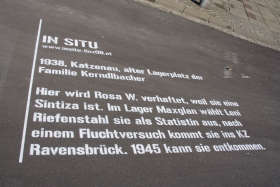 Katzenau
Copyright: Dagmar Höss
Download Press Photos
Press Information
5 March 2009
Dagmar Höss, Monika Sommer

and

Heidemarie Uhl
The IN SITU project has already gotten started temporarily marking a total of 65 locations within the Linz city limits. Large-format stencils are being used to spray-paint a brief text on site—IN SITU—that makes reference to what happened at that place during the
Nazi
era.
This initiative does not focus exclusively on well-known locations amidst the topography of terror in Linz such as
Gestapo
headquarters on
Langgasse
Bethlehemstraße. We are also pointing out buildings and public squares to which scant attention has been paid heretofore and that give little indication of being anything out of the ordinary. We indicate their historical significance as places where National Socialist despotism was implemented in real life.
21 of 65 sites—beginning on the outskirts of town—have already been marked and, depending on the weather, will be supplemented over the coming weeks.
Detailed and comprehensive bilingual information, historical and contemporary photographs as well as original documents:
City map:
available in the Linz 09 Infocenter free of charge beginning in late March
Book:
IN SITU.
Zeitgeschichte findet Stadt:

Nationalsozialismus in Linz

: available in bookstores in early April
Website: online beginning March 11 at www.insitu-linz09.at

Sites already marked:

•

Wiener Straße

545-549,

Ebelsberg


•

Dauphinestraße

11
• Siemensstraße / Daimlerstraße
• Ramsauerstraße / Uhlandstraße
• Spallerhof housing project on Glimpfingerstraße
• Wiener Straße 150
•

Wagner Jauregg

Hospital on

Hanuschstraße


•

Robert-Stolz-Straße

12
•

Stockbauernstraße

11
• "Aphrodite Temple"

Auf der Gugl


• Märzenkeller Bockgasse
• Wurmstraße 11
•

Wurmstraße

7
•

Rudolfstraße

18
•

Rudolfstraße

6-8
•

Hauptstraße

16
•

Unionkreuzung

bus stop
•

Katzenau

/ now on the grounds of

Chemie Linz AG

/ near the bus stop
•

Krankenhausstraße

9 / Linz General Hospital
•

Kaplanhofstraße

40
•

Untere Donaulände

74, tobacco factory