sicht:wechsel - Back to Back Theatre: Small Metal Objects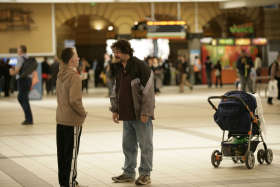 Back to Back - Small metal objects
Copyright: Jeff Busby
Download Press Photos
Press information
Tuesday 21 April 2009
On an out-of-the-ordinary stage set up in a Wels shopping center, Australia's BACK TO BACK THEATRE ensemble will present the play SMALL METAL OBJECTS to conclude sicht:wechsel on Friday, April 24 and Saturday, April 25, 2009.
The incredible inventiveness of the members of the Back to Back Theater ensemble lets us experience how one can get lost in the crowd at a shopping center and, in doing so, make amazing discoveries. Their stage is the shopping center itself. Audience members outfitted with headphones are seated on a grandstand set up especially for this performance right in the middle of the hustle and bustle. And as soon as they've settled in, interesting things start to happen all around them. Right up close.
Gary and Steve are the kind of guys who don't normally attract the attention of others. In this play, the Australian actors fight to carve out a place for themselves in life. As professional actors, though, they make no bones about the fact that they're considered to be mentally ill, but that's precisely why they experience the world in a way that's fascinatingly different.
How this constellation engenders extraordinarily touching drama is what theatergoers can look forward to experiencing themselves. Australia's Back to Back Theatre is one of the world's foremost integrative ensembles. It creates new forms of contemporary theater on the basis of the concepts and experiences of a very unique group of actors and actresses with and without handicaps. They voice essential social and political issues.
Concept / Director // Bruce Gladwin
Concept // Simon Laherty, Sonia Teuben, Jim Russell, Genevieve Morris
Composition / Design // Hugh Covill
April 24, 2009, 1:30 and 5:30 PM
April 25, 2009, 3 PM
Shoppingcity Wels
Salzburger Straße 223, 4600 Wels
Drawing
Now you can win one of 15 pairs of tickets for the performance on Friday, April 24 at 1:30 PM in Shoppingcity
Wels
. Simply send an e-mail with "Small metal objects" in the subject line and containing your name, address and phone number to
gewinnspiel@linz09.at
. Entry deadline is Thursday, April 23, 2009 at 9 AM. The lucky winners will be notified by telephone by noon Thursday.