Linz Texas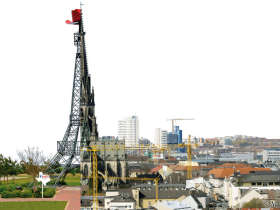 Linz Texas
Copyright: Jakob Winkler, Montage MVD
12 June – 08 September 08
Opening 11 June 08, Architekturzentrum Wien
25 September – 02 November 08
Opening 24 September 08, Stadtmuseum Graz
Idea / Concept: Angelika Fitz, Az W/Dietmar Steiner, Linz09/Martin Heller, Gudrun Wallenböck
A City relates
In the run-up to the Capital of Culture Year the exhibition LINZ TEXAS undertakes a playful comparison between Linz and cities across the world.
Linz is not small and it's not big either; it's what you might call medium sized by European standards. In fact Linzers share this with the majority of Europe's citizens – most of them live in medium-sized cities. A glance at Linz's more recent past reveals that Linz has successfully played the card of its place in the middle, between industry and culture, economic centre and rural life, the tradition-laden tourist magnets Vienna and Salzburg, etc. Linz has also displayed a knack for re-inventing itself. It is sufficient to recall its structural and image metamorphosis from an industrial centre, which was inextricably associated with the Nazi era, to a metropolis of culture that hosts Forum Design and Ars Electronica. Yet what does Linz have in common with Haifa, Wolfsburg or Galati? Which of its properties can you also find in Moscow, Manchester or Davos? It is precisely such questions that LINZ TEXAS raises – and attempts to answer in the form of an exhibition which will open with pomp and circumstance at the
Architekturzentrum
in Vienna. It will then go on tour, stopping off at
Stadtmuseum Graz
and other venues. The exhibition aims at creating an adventurous ronde of comparisons, the point of the exercise being to direct attention to Linz's many dimensions – and to its relations. The exhibition is accompanied by a publication with contributions written by
Shumon Basar, Angelika Fitz, Klemens Gruber, Martin Heller, Bart Lootsma, Angelika Schnell, Dietmar Steiner
and Roemer van Toorn.
Elective Relationships

PARIS, TEXAS: Runners-up; MANCHESTER: The fabric of the Industrial Revolution; HAIFA: City of labour; PORT CAMARGUE: Garden city; SALZGITTER: The Nazi's model city; WOLFSBURG: Living industry; GALATI: Waterway; KASSEL: City branding; LONDON: The Great Exhibition and New Labour; SEATTLE: Do-it-yourself music; MOSCOW: Excellence for all; VIENNA: Three cheers for old houses! DAVOS: Country air; HYDERABAD: Landscapes of technology; ROURKELA: Building for the world; MADRID: Building for traffic;

PASCHING

: Shopping and football; GRAZ: Capital of Culture.
WHERE //
Architekturzentrum Wien
www.azw.at
Stadtmuseum Graz
www.stadtmuseumgraz.at
PARTICIPANTS //
Angelika Fitz
(Curator), arquitectos/
Heidi Pretterhofer
(Exhibition architecture),
mvd Austria/Michael Rieper, Georg Skerbisch
and
Christine Schmauszer
(Graphic art),
Christina Nägele
(Curatorial assistance)
In cooperation with
Architekturzentrum Wien