"Kulturhauptstadt des Führers "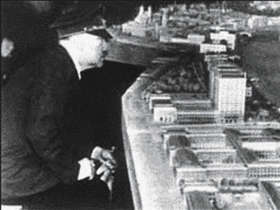 Kulturhauptstadt des Führers
Copyright: Titze-Clodi. Oberösterreichischer Musealverein, Jb. 88. B., Linz 1939
"THE CULTURAL CAPITAL OF THE FÜHRER"
17 September 08 – 22 March 09
Tue – Fri 9 am – 6 pm, Sat, Sun, and holidays 10 am – 5 pm; closed on Mon
Idea / Concept: Birgit Kirchmayr
What historical footprints did the National Socialists' cultural policies leave in 'the Fuhrer's home town'? This exhibition will put cultural politics and everyday life between 1938 and 1945 on show, find these footprints and see where they lead.
In the Nazi era the then capital of the
'Gau' Oberdonau
was transformed in no time from a small provincial town to an industrial city. The changes this involved affected not only the social and economic fabric of Linz but the city's cultural life as well.
Adolf Hitler's
fantasies centring on Linz, the planned interventions in urban architecture and culture, form only part of a much more comprehensive examination of events. The museum of art that
Hitler
planned to present Linz with, the
'Führermuseum'
, demonstrates in an exemplary manner the implication of the Nazis' cultural policies in the Aryanization of works of art that belonged to persecuted or murdered individuals. Paintings that were supposed to become part of the
'Führermuseum'
will be on display together with blueprints of projects designed for
Hitler's
greater glory, which, marked as they were by megalomania and irrationality, were never realized. Cultural everyday life between 1938 and 1945, the second focus of the exhibition
"KULTURHAUPTSTADT DES FÜHRERS"
after the Nazis cultural phantasmagorias, will also address the issue of historic continuities and the 'legacy' of this particular past.
Insights
What was cultural life like in the Nazi era in Linz and in Upper Austria? What role did the official Nazi cultural policies play and to what extent did Hitler's cultural visions dominate local cultural life? Questions about continuities and ruptures in the arts, music, literature and in the theatre that were particularly in evidence around 1938 and 1945 will be asked. By including works by artists particularly relevant in this context, the exhibition will also explore how much leeway there was for these artists and what strategies and positions they adopted. WHERE // Schlossmuseum Linz Tummelplatz 10, 4010 Linz www.schlossmuseum.at CURATORS // Michaela Nagl, Arnold Klaffenböck, Manuel Schilcher, Regina Thumser, Dagmar Ulm In cooperation with Oberösterreichische Landesmuseen Political Scultpure