Tower Hermit. 395 Steps to Solitude – A project by Linz 2009 European Capital of Culture in cooperation with the Diocese of Linz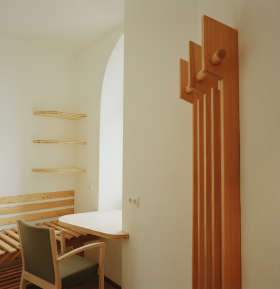 Copyright: Dietmar Tollerian
Download Press Photos
Press Conference
Thursday, October 30, 2008, 10 a.m
Ceremonial Hall of the Episcopal Court
Herrenstraße 19, 4020 Linz
Featured Speakers:

Martin Heller

(Artistic Director of Linz09),

Hubert Nitsch

, (Director of Artistic Affairs and Conservator of the Diocese of Linz, initiator of the "Tower Hermit" project) and

Maximilian Strasser

(Cathedral Priest).
Serenity for the Soul 68 Meters above the Hustle and Bustle of the City
In conjunction with Linz 2009 European Capital of Culture, the
Türmerstube
hermitage in Linz's St. Mary's Cathedral, Austria's largest church, will be made available to guests seeking to go on retreat.
Though located only 68 meters away from hectic life in the big city, the
Türmerstube
is a completely different world. This hermitage is simultaneously a utopian setting and a real place in which to seek answers to questions having to do with the meaning of human existence and the direction of ones own life.
The hermit is a phenomenon in the history of religion and in human history as a whole. Over the millennia, human beings have been going on temporary or permanent retreat in order to see life from a different perspective or to live an alternative way of life in society.
Not visible, but present nonetheless
The
Türmerstube
in St. Mary's Cathedral was constructed during World War II and presumably used as an observation post to more quickly identify neighborhoods devastated by air raids and to coordinate aid.
The Türmerstube's very prominent location offers a good overview of the city and it, in turn, can be seen from many spots all around town.
This imparts heightened clarity to the powerful symbolism of this high-profile site, which, for Linzers, is being endowed with a new connotation by Linz09, and which also enables guests in our city to perceive a quality that goes beyond art historical, musical and liturgical realms and one that can hardly be experienced in another context.
St. Mary's Cathedral is one of the centerpieces of the ecclesiastical history of the Diocese of Linz and is inseparably connected to the name of Bishop
Rudigier
; moreover, inherent in the structure itself is the message of liberated life and Christian community.
Space for Solitude
The "Tower Hermit" project reflects an ecclesiastical dimension in that personal pastoral accompaniment and support are provided to each hermit.
At the same time, the hermitage symbolizes the space that every Catholic Church provides: a place for withdrawal, peace & quiet, and reflection about life, oneself, mankind and God.
Rituals and Rhythms
A hermit's life has never been limited to just maintaining silence; rituals and simple labor have always imparted a powerful rhythm to this life.
In addition to a diary that each hermit will keep and pass on to his/her successor as a means of facilitating reflection and articulation, the hermitage also features a library of selected books. Maintaining cleanliness and order in the cell will take up some of the hermit's time each day. Going for walks and physical activities (in addition to lots of stair-climbing) are additional options. Meals are provided.
Maintaining silence with the hermit
At 12:15 each day, Linz09 visitors will have the opportunity to spend 20 minutes in the company of the hermit at the Midday Prayer Service in the Worship Chapel (Anbetungskapelle) of St. Mary's Cathedral. This is meant to be a way for people to experience on a limited scale the act of maintaining silence in the context of everyday life.
Tower Hermit
A project by Linz 2009 European Capital of Culture in cooperation with the Diocese of Linz

Project idea // Hubert Nitsch

Supported by //

Oberösterreichische Versicherung AG, Schlierbach

Glass Works,

Hilfswerk

Upper Austria, Bishop

Rudigier

Foundation,

Veritas

Book Store,

Hotel Kolping



The

Türmerstube

was designed by //

proHolz

Upper Austria in cooperation with the master class in furniture design at

Hallstatt

Technical School,

MAFI Naturholzböden, Wiesner

and

Hager Möbel GmbH, Kranz Tischlerei GmbH & Co. KG

and

GEA – Gehen Sitzen Liegen


Furniture design:

Franz Geffke
Communication/Press Relations – Diocese of Linz
Gabriele Eder-Cakl
Herrenstraße
19, 4020 Linz
Telephone: 0732 / 7610 – 1130
Fax: 0732 / 7610 - 1175
E-mail:
presse@dioezese-linz.at
Internet:
www.dioezese-linz.at
Additional information about the project is available at
www.linz09.at/turmeremit
and
www.mariendom.at
Details:
Tower Hermits – Everyday Life
Silence Brings the Soul into Motion
A Spiritual Midday Pause