Kick-off-event I LIKE TO MOVE IT MOVE IT – The big Linz09 school project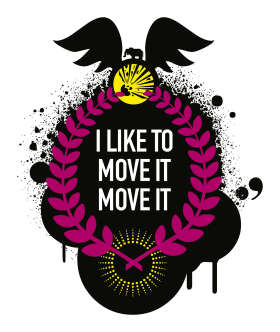 Copyright: Linz09
Download Press Photos
Press Release
8 November 2008
I LIKE TO MOVE IT MOVE IT Launched on November 7, 2008
A gala kick-off event got the big Linz09 school project I LIKE TO MOVE IT MOVE IT off to a rousing start. More than 250 guests including teachers from all over Upper Austria, artists from throughout Austria and around the world, and representatives of the project's sponsors convened in the Linz Shipyard's canteen to partake of good food, delightful music and world-class terpsichorean entertainment.
Airan Berg
(Linz09's director of performing arts) and
Erwin Dorn
(pedagogical director) shared emcee responsibilities. Linz Deputy Mayor
Erich Watzl
saw the big turnout on the part of teachers as further proof of their extraordinarily high level of commitment to the Upper Austrian educational system.
Angela Orthner
, president of the province's legislature, emphasized the importance of musical education in schools, something that I LIKE TO MOVE IT MOVE IT is doing so much to foster. Recent studies have repeatedly documented what a positive impact this has on young people's intelligence and their quality of life.
Dr. Sirikit Amann
of the Austrian Federal Ministry of Education, Art and Culture conveyed Minister
Claudia Schmied
's best wishes for a project that, in the truest sense of the word, stands for movement, sustainability and broad-based impact.
Guests also got a first look at the brand new project logo that, like a coat-of-arms, brings together multiple symbols that are emblematic of the ideas inherent in I LIKE TO MOVE IT MOVE IT: a laurel wreath for outstanding leadership, an inkblot representing making mistakes, wings for motion, the sun for warmth and energy, a bang for receptiveness to change, and crowned by a wise yet playful elephant who, beneath a hard outer layer, is soft inside.
Approximately 100 schools of many different types located all over Upper Austria are involved in this major project. They're collaborating with local-based as well as international artists. The focus is on the linkup of education and creativity, on joyous, enthusiastic engagement in artistic work, and on all participants' wholehearted commitment to an open creative process. It's also meant to engender esteem for the school system and generate positive feedback for kids, parents and teachers. Linz09 is striving to reestablish the importance of art and culture in our schools and to enable these institutions to function as key partners of the Capital of Culture. In this spirit, I LIKE TO MOVE IT MOVE IT takes creativity and an understanding of culture to precisely those locations with the greatest potential and where the most future opinion leaders are to be found: our schools.
Details:
I LIKE TO MOVE IT MOVE IT – The Big Linz09 School Project