Initial Presentation in conjunction with "I LIKE TO MOVE IT MOVE IT – The Big Linz09 School Project" at Vocational School 8 in Linz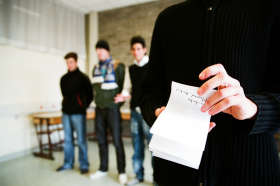 Copyright: Nick Mangafas
Download Press Photos
Press Release
28 January 2009
A very special premiere took place today at Linz's Vocational School 8. It's the first of 90 Upper Austrian educational institutions to complete its project in conjunction with I LIKE TO MOVE IT MOVE IT. Today, students and faculty members gave five brief presentations. Among those in attendance was Linz Deputy Mayor Erich Watzl.
Since November 2008, 25 boys and one girl age 16-19 have been working together with actresses Barbara Carli and Gudrun Maier from Graz's Theater im Bahnhof.
These students are from all over Austria. They're currently enrolled in a 10-week program at the Linz vocational school to learn to install plumbing, heating & cooling equipment and building insulation. The theater project was conducted during this timeframe in conjunction with instruction in German and interpersonal communication, which Barbara Carli and Gudrun Maier used as the basis for a collage made up of several scenes. They took situations from everyday life on the job as well as from the world of school attendance and integrated this material into the performance. "Pay attention to your breathing!" "Think positive!" "Put a friendly expression on your face!" These are some of the text-book suggestions for young people going into a job interview. The students' performances are playful and highly expressive takes on the implementation of these precepts.
Until now, Vocational School 8 has offered absolutely nothing in the way of the performing arts. But during the Capital of Culture year, this institution will be hosting a second project as well. In February 2009, Viennese choreographer Willi Dorner will be working together with students on a "dance karaoke" that will be presented at the school's prom in April 2009 at Linz's Kaufmännisches Palais.
I LIKE TO MOVE IT MOVE IT – The Big Linz09 School Project

This innovative model project has been launched by Linz09 in cooperation with Upper Austrian teachers and principals as well as artists from Austria and around the world. This will be the first time that a project so broad in scope involving the performing arts in schools is being attempted in Austria. All types of schools throughout the Province of Upper Austria are participating in I LIKE TO MOVE IT MOVE IT. But the accent isn't only on contemporary dance and theater; it's also on the schools, the students and the teachers themselves.

Through June 2009, nationally and internationally renowned choreographers, directors, actors, performers and teachers in many regions of the Province of Upper Austria will be working with over 2,000 students and launching a process of change at their schools. The focus will be on joyous, enthusiastic engagement in artistic work and all participants' wholehearted commitment to an artistic process whose outcome is very much up in the air. Live performances can be a part of this project, but they are by no means mandatory. Ideas and models will be set in motion and, ideally, carried on to continue to encourage and strengthen the people of this school system—young and old alike.

ARTISTIC DIRECTORS // Airan Berg, Guido Reimitz
PEDAGOGICAL DIRECTOR // Erwin Dorn
PROCT DIRECTOR // Marlies Leibitzki
ARTISTIC COORDINATORS // Margit Moisl, Markus Zeindlinger
PRODUCERS // Karin Arico, Pia Dorn, Elisabeth Klausner, Rudolf Neuböck, Maria Pree,
Hans Schachinger, Alexander Schneider, Simon Wieser, Herbert Wiesinger,
Konrad Thamm

Under the auspices of
HYPO Oberösterreich, MCE AG, Asamer Holding Ag, Bosch Rexroth GmbH, Greiner Group, HALI Büromöbel GmbH and Rosenbauer

With the support of
Finadvice, SLR-Gußwerk II BetriebsGmbH und Schöfer GmbH

A Linz09 project produced in cooperation with Anton Bruckner Private University,
Ars Electronica Center, KulturKontakt Austria, Theater des Kindes, SCHÄXPIR, Verein Zündstoff, victoria/campo as well as the Kronen Zeitung OÖ and Wirtschaftskammer OÖ.