Schaurausch - Art in 50 Shop Windows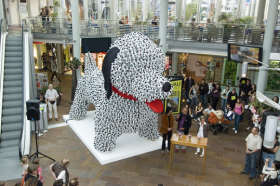 In May 2007, downtown Linz transformed itself into a vibrant alfresco art gallery. More than 30 artists from Austria and abroad turned 50 shop windows and display cases into works of art.
A speaking facade, a cascade of books and a menagerie made of plastic bags were only a few examples of the many extraordinary objects, photos and videos that enriched the cityscape. This "viewing spree" of contemporary art invited passers-by to linger, to be amazed, and to give some thought to what they beheld. Passers-by became flaneurs on a journey of artistic discovery, and sales personnel functioned as guides mediating the public's encounter with art in public spaces.
With their ideas and works of art set in display cases, in pedestrian passageways and on building façades, the participating artists created experiential spaces that invited shoppers to go on a viewing spree. The impact was considerable: this extraordinary exhibition became the talk of the town and the region. As Part 1 of the Art in the City trilogy staged jointly with the OK Center for Contemporary Art, SCHAURAUSCH was a tasty foretaste of the Capital of Culture year.
The 50 Schaurausch-Projects
WHAT // Exhibition in public spaces
WHEN // May 10 - June 2, 2007
WHERE // Landstraße, O.K Center for Contemporary Art
www.ok-centrum.at/schaurausch

Curators // Paolo Bianchi, Martin Sturm




Press Information to Schaurausch
Download Press Photos Press Conference Schaurausch, 5 March 2007
Download Press Photos Press Conference Schaurausch, 10 May 2007
back