See this Sound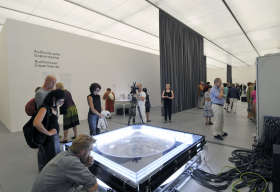 Copyright: Linz09/Kurt Groh
SEE THIS SOUND dealt with how sounds and images interact in art, media and perception.
Audiovisual products and structures are omnipresent; they're essential aspects of our world of everyday experience. Sounds and noise reverberate through museums as well, since it's taken completely for granted today that artists work with the sound of the world. The SEE THIS SOUND project reacted to this phenomenon by presenting and discussing an illustrative array of contemporary artworks and scholarship focused on them. The areas of inquiry included pop culture, perception theory and media technology.
In chapters dedicated to specific themes, the exhibition showcased exemplary works of art created from the 1920s to the present day and assessed the visionary promises of the interplay of sound and image. A web archive, a comprehensive multimedia lexicon of audiovisual artforms containing a wealth of examples, brought in background information from historical scholarship on culture and media. Symposium participants discussed the relationship between the acoustic and the visual in art and media.
Attendance at this extraordinary presentation of art that works with sounds and images presented in a 2,500-m2 space in the Lentos topped 37,500.
WHAT // Exhibition / Web Archive / Symposium
WHEN // August 28, 2009-January 10, 2010
WHERE // Lentos Art Museum Linz
www.see-this-sound.at

PROJECT STAFF // Stella Rollig and Dieter Daniels (artistic & scholarly directors), Cosima Rainer (curator), Sandra Naumann (scholarly staff), Johanna Grützbauch (project coordinator)
Press Information to See this Sound
Download Press Photos See this Sound
back