Parade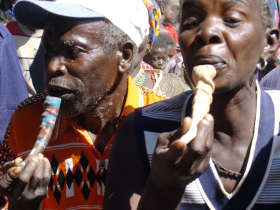 Copyright: Peter Kuthan
Peripatetic music from all over the world: an urban musical excursion along Linz's periphery.
All peoples all over the world have developed acoustic methods to cordon off the setting of their everyday life and to implement rules meant to apply throughout this territory. The resulting forms are referred to as parades, marches, processions, etc. PARADE brought together ensembles from Austria, Switzerland, Burkina Faso, Nepal, Zanzibar, Tanzania, Iran, Zimbabwe and Zambia ranging from a duo to a 30-member orchestra. It was an enlightening experience to see how diversely political "necessities" are fulfilled by music. On each of the event's three days, PARADE artists explored a different part of town and thereby focused attention on the diversity of Linz's neighborhoods and the people who inhabit them: SolarCity, Hafenviertel and Pöstlingberg. This was followed by workshops and discussions involving various groups in Linz, Haslach, Aschach, Burg Neuhaus, Neufelden, Wien and Untermühl. The ensembles didn't play the respective neighborhoods according to a strict schedule; instead, they proceeded in the manner of "acoustic researchers" seeking to experience and express the various reflective qualities of the respective places. More than 7,000 visitors followed the musicians' long and winding route.
In December 2009, Parade returned to the three venues at which the CD/DVD package providing video & audio documentation of this extraordinary event was presented. This was also meant celebrate the
legacy of Keith Goddard
, one of the co-producers of PARADE. He also participated in it before his death on October 9, 2009 in Harare.
"It was more than I could have dreamed of. There were moments of quiet and others where musicians met, collided and passed each other. There were smiles on people's faces; they were with the musicians, surrounded by them, unseparated from them."
Keith Goddard
The PARADE documentation is available from ARGE Zimbabwe Friendship in return for a contribution to Projekt Tonga.Online / Zimbabwe. Order via e-mail to
argezim@silverserver.at
WHAT // Parades, walkabouts, marches, processions
WHEN / May 1 - 3, 2009
WHERE // SolarCity, Hafenviertel, Pöstlingberg
www.linz09.at/parade-blog

CONCEPT // Keith Goddard, Peter Kuthan
PERFORMIONG ARTISTS // Albin Paulus & Stephan Steiner Duo / Donau Brass / Hornroh – modern alphorns from Switzerland / Lege Lege Foli – Balafon Ensemble from Burkina Faso / Master Drummers of Nepal / Sekembuke & Siga – Zumari horns from Zanzibar / Shanbehzadeh Duo from Iran / Simonga-Maliko – Ngoma Buntibe Ensemble from Zimbabwe and Zambia


Free admission
Gallery
back