Phonomanie 9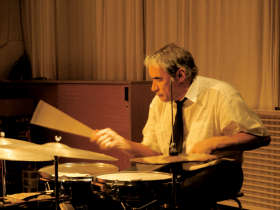 Copyright: Günter Gröger
With Paul Lovens at center stage and Linz09 behind the scenes, Jazzatelier Ulrichsberg hosted its ninth PHONOMANIE, a three-day celebration that ran the gamut of this great musician's creativity.
Jazzatelier Ulrichsberg occasionally stages small festivals—subsumed under the heading "Phonomanie"—that focus on a single theme or spotlight an individual musician. The 9th edition of Phonomanie was dedicated to Paul Lovens, one of the occasions being the drummer's 60th birthday. Under the programmatic title "Vermögen" (Capability), Lovens appeared in four concerts a day over three days together with many of the personalities who have been his long-time musical collaborators.
Paul Lovens is one of the co-inventors and co-founders of that movement within European improvised music that has developed since the 1960s as a reaction and response to American Free Jazz. But this special kind of music-making has long since emancipated itself from its close ties to Jazz and found its way to forms characterized by absolute autonomy and independence. Among the strengths of this approach to music is its openness, spontaneity and indeterminacy that make it capable of blending with a wide variety of contemporary forms of musical expression.
WHAT // Free improvisation
WHEN // December 4-6, 2009
WHERE // Jazzatelier Ulrichsberg

PERFORMING ARTISTS // Paul Lytton, Evan Parker, Alexander von Schlippenbach, Eugene Chadbourne, John Edwards, Paul Hubweber, Günter Christmann, Mats Gustafson, Michael Moore, Phil Wachsmann, Sabina Meyer, Radu Malfatti, Klaus Filip, Tobias Delius, Rudi Mahall, Wilbert de Joode, Serigne C.M. Gueye, John Russell, Carlos Zingaro, Hans Reichel, Wolfgang Mitterer
Press Information to Phonomanie 9
back