Radio Jazz Research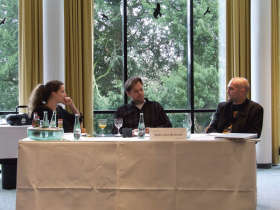 A conference of international radio journalists: Jazz and film with an opening concert.
The participants in Radio Jazz Research's conference were on a quest for "swinging" images. In addition to studying the short movie format popular in the late '20s and '30s, participants discussed what help visual sources can provide for the transcription of improvised structures, and sketched the intellectual history of full-length feature jazz films. Screenings of historical and contemporary jazz films accompanied the "Jazz and Film" conference. Journalists from major German-language radio stations (WDR, SWF, HR, NDR, DF and Ö1) as well as from radio stations and leading print media outlets in Central Europe attended this conference in Europe's Capital of Culture to intensively debate these topics. Rounding out the program was an evening jazz concert in Linz's Jazzclub broadcast live by Ö1 and WDR3.
WHAT // Conference of international radio journalists
WHEN // June 16-19, 2009
WHERE // Cheese, Waltherstraße 11, 4020 Linz
www.radio-jazz-research.de

CONCEPT // Bernd Hoffmann for Radio Jazz Research
SPEAKERS // Lisa Gotto, Stuart Nicholson, Werner Wittersheim, Franz Krieger, Christoph Czech, Bernd Hoffmann et al.
back