Theatre Mania Goes Open-Air!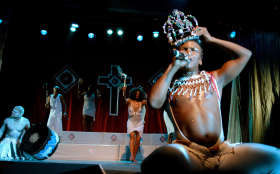 Copyright: Arts Projects Australia
16.07.2009


The second big theatre festival of the Capital of Culture year is drawing near. Linz09 is following up last winter's Theatre Mania1: Snowstorm with a summery lineup: Theatre Mania2: Sunburn. Austrian and international theatre companies are showcasing their talents in interesting alfresco settings!
Freinberg high above the Danube offers one of the best vantage-point views in town. But this lovely location has a dark past: it used to be Gallows Hill, the site where executions were carried out. The mountain's history is an essential element of the Potatello Kompanii's play featuring a cast of human actors and marionettes. It deals with the "Da Deufö"—the Devil—and his influence on mankind.
Theatre Mania2: Sunburn then switches continents for a production of "House of the Holy Afro." South African Brett Bailey stages an explosive African "nightclub" with performances including dance, rhythm, gospel music, color and poetry.
Sound interesting? Those are only two items on the festival's outstanding lineup! For detailed info, log on to
www.linz09.at/theaterlust2
. We'll spotlight two more productions in the next issue of the Linz09 Newsletter.
Da Deufö
August 1, 2009, 8:30 PM (world premiere)
Additional performances August 2-5, 2009
Freinberg, Franz-Josef-Warte (look-out tower)
House of the Holy Afro
July 30-August 1, 2009, 9 PM
Voestbrücke Urfahr, Asfalt-Stockplatz
€9 admission for holders of the Linz09 Card and the Linz09 Insider