Odd Jubilees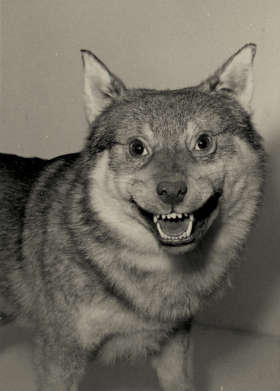 Wolf or dog?
Copyright: Archiv Biologiezentrum OÖ
Download Press Photos
Press Release
Tuesday, 10 February 2009
Anecdotes, Myths and Stories from Linz
1st Series on February 14, 2009
Performances, installations and sculptures will be presented in four event-blocks over the course of 2009 to mark non-round-number anniversaries of some of the most interesting, bizarre and memorable events in the city's history. The first group of Odd Anniversaries will be commemorated on Saturday, February 14, 2009. Celebrate the 58,942,080 minutes since the first motion picture was screened in Linz. Then you can commemorate 80 years minus one day since the coldest day in recent memory by sipping an ice-cold cocktail in a freezer truck. The high point is atop Pöstlingberg, where Linz09 is inviting daring skiers and snowboarders to revive Linz's 105-year-old ski jumping tradition.
The "other" history of Linz has a few surprises in store for you!
5,209 Weeks
A wolf … or is it?
11 AM: The stuffed wolf (or possibly not) goes on display in the window of a shop at Landstraße 17-25
80 Years Minus One Day
Coldest day
11:30 AM-5 PM: Ice-cold cocktails at -32° in a freezer truck parked on Taubenmarkt
100 years
Double ski pole
11:45 AM: Ski Tour from the Mozartkreuzung to Urfahr – A Performance
104 years
Ski jumping on Pöstlingberg
2 PM: Ski jumping on Pöstlingberg Access via public transportation: Take the Pöstlingberg bus to the last stop "An der Mayrwiesen"; registration on site beginning at 1 PM; open to skiers and snowboarders; helmet required; this event will take place only if there is sufficient snow! Announcement at www.linz09.at
58,942,080 Minutes
Since the first screening of a motion picture in Linz
5 PM: Movie screening in Cinematograph, Obere Donaulände 51
Admission: €4; free admission for Linz09 Insider cardholders! To make reservations, call 0732 785603
622,872 Hours
Since an aurora borealis sighting
over Linz led to deployment of the fire brigade
7 PM: Staging of northern lights with a musical performance in the park of the Schlossmuseum
Download:
details (PDF)