Extra Europa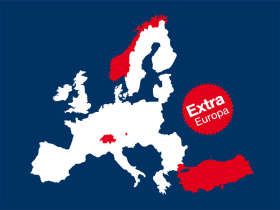 Copyright: Linz09
Who is Europe? What is Europe? Is there a "European identity and culture"? Linz09 focused on Europe beyond the realm of the European Union: Norway, Turkey and Switzerland.
For several weeks in spring 2009, EXTRA EUROPA shifted three EU non-member states into the limelight: Norway, Turkey and Switzerland. This unusual constellation of countries—diversified to say the least—was designed to enable symposium participants to see these three EU non-member states as well as the whole of Europe from new perspectives, and was also meant to foster an in-depth confrontation with the question of whether there exists something like a "European identity" and a "European culture." These concepts are often applied to the European Union as a "package deal." But how European do Europe's non-EU-member states feel? And for what reasons won't—or can't—they join? EXTRA EUROPA quite intentionally touched on these hot topics—not least of all to launch a discussion about them, but also to utilize this as a fitting occasion to segue into the topic that subsumes them all: "Europe" itself. Are some EU non-member states perhaps even "especially European," and do they exhibit values and characteristics that are particularly, explicitly associated with Europe?
This encounter with the three EXTRA EUROPA countries took place on both a political and a cultural level. The main elements of EXTRA EUROPA were a two-day (March 20-21) symposium in Linz's Wissensturm featuring a stellar lineup of experts from Norway, Switzerland, Turkey and Austria, as well as a CULTURAL FESTIVAL (March 19-May 3) featuring approximately 60 productions by dancers, actors, musicians, writers, filmmakers and visual artists. Another important part of EXTRA EUROPA's mission was a successful and inspiring conclave of about 60 European young people from Norway, Switzerland, Turkey, Estonia, France, the Czech Republic and Austria within the framework of the European Youth Parliament Linz09 Forum.
WHAT // Symposium, cultural festival
WHEN // March 19 – May 3, 2009
WHERE // Wissensturm, various artistic venues

Download:
Essay from Norway: Morten A. Strøksnes (PDF)
Essay from Switzerland: Lukas Bärfuss (PDF)
Essay from Turkey: Cengiz Aktar (PDF)
Essay from Austria: Karl Stimeder (PDF)
Symposium: Opening Speeches, 20 March 2009
Symposium: Panel A - The EU: From the inside and the outside, 20 March 2009
Symposium: Panel B - Is the EU a melting pot? Any aigns of an EU identity forming?, 20 March 2009
Symposium: Panel C - The Role of culture and art in the forming of Europe?, 20 March 2009
Symposium: Panel D - Global markets, global crisis, 20 March 2009
Symposium: Panel E - Threats and challenges to european security in the 21st century, 21 March 2009
Symposium: Panel F - The EU in 2020, 21 March 2009
Gallery
back