"Curtain up!" - Press conference of the Performing Arts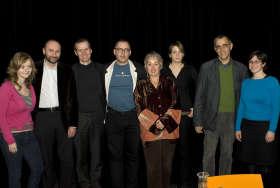 Barbara Seemann, Linz09; David Tushingham, Dramaturge Performing Arts Linz09; Barbara Hinterleitner, Linz09; Airan Berg, Artistic Director Performing Arts Linz09; Nora Wolloch, Linz09; Christoph Bochdansky, Artistic Director "Wo? Wenn nicht alle da!"; Margit Niederhuber, Dramaturge "The Concealed City"
Copyright: Linz09
Download Press Photos
Friday, 8th February 2008, 9.30 a.m.
Linz 2009 Kulturhauptstadt Europas OrganisationsGmbH, Gruberstr. 2, 4020 Linz
Airan Berg, Artistic Director Performing Arts Linz09, presented selected projects of the 2008 and 2009 programme of the Performing Arts department.
Further participants:
- David Tushingham, Dramaturg Performing Arts Linz09
- David Mayaan, Artistic Director "Academy of the Impossible"
- Margit Niederhuber, Dramaturg "Die verborgene Stadt"
- Christoph Bochdansky, Artistic Director "Wo? Wenn nicht alle da!"
Download:
Wo? wenn nicht alle da!
Sunburn
Snowstorm
Maria Stuart
Empire
Doppelgänger
The Concealed City
The Other Side
Academy of the Impossible